Pamper Parties

Our Pamper party appointments are curated to your unique needs and desires – we come to you!
Group and Corporate Bookings
Planning a wedding, a girl's get-together or looking for a unique way to thank your staff? Nail Call's got you covered!
Princess Parties
Looking for a unique and decadent party package for your budding Princess? Nail Call's decadent Princess Party events ensure your Princess and her ladies in waiting feel the centre of attention for whatever her occasion is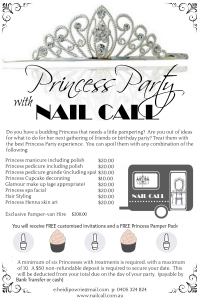 Nail Call's got you covered:
Group Hosts receive a special pamper pack, a generous discount and personalised invitations (optional)
Nail Call will come to your venue and create a salon tailored to suit your needs
Nail Call can manage and access to Massage Therapists, Reiki therapists, henna artists, beauty therapists – whatever you need for your special day
Hourly rates available for corporate or large group bookings
Special Events and Sponsorship
Nail Call is a proud supporter of breast cancer research and the McGrath Foundation as will as various other charities.
For any event you wild like us to be part of, we even have our own "Pamper-van" for hire created to lift your experience and create something spectacular to enjoy.
We are also available to attend school fairs and market days etc.